BackyardProduction via Getty Images Drug overdoses continued to increase significantly in the first nine months of 2016 despite increasing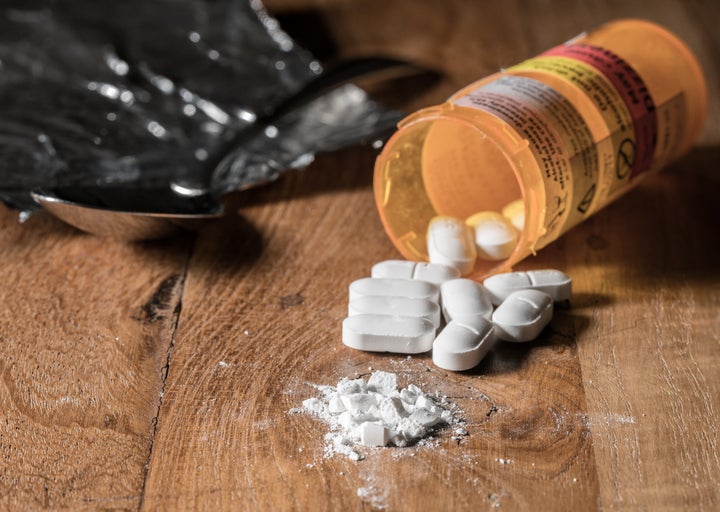 Drug overdoses continued to increase significantly in the first nine months of 2016 despite increasing public awareness. In the third quarter of last year, 19.9/100,000 people died from an overdose, representing a significant increase from the 16.7/100,000 rate in the same period of 2015. Of these fatalities, about 6 in 10 are linked to opioids. 91 Americans die every day from an opioid overdose in America, due to both prescription painkillers and illicit drugs. Drug overdose is the leading cause of death from unintentional injuries in the United States killing more people than gun homicides and car crashes combined, with opioid overdoses accounting for the loss of 33,091 American lives in 2015 alone.
In the United States, the overall rate of opioid overdoses in that year reached an all-time high of 10.3/100,000 people, but the epidemic has hit some areas of the country far harder than others. In 2015, West Virginia had an opioid-related mortality rate of 41.5 per 100,000 people, while that of Nebraska was 6.9/100,000. Other states with very high overdose rates include Massachusetts, New Hampshire, Rhode Island, and Ohio. In 2015, 2.0 million people in the United States ages 12 or older had an opioid use disorder and 600,000 suffered from heroin addiction.
A study published earlier this week in the Journal of Preventive Medicine reports that the number of drug overdoses between 2008-2014 involving opioids was likely underestimated by 24% and heroin overdoses were likely underestimated by 22%. The economic cost of opioid use in America is an estimated $78.5 billion annually. In communities hit hard by the opioid epidemic, each day brings more babies born addicted to this substance because their mothers used the drug during pregnancy, sends more children with addicted parents into the foster care system, and sentences more drug offenders to overflowing jails. A multitude of health complications affecting multiple organ systems – such as hepatitis, HIV and cardiovascular problems – can occur as a result of opioid use.
Over the past two years, health professionals, policymakers, and the public have acknowledged the seriousness and scope of the opioid epidemic in America, and have sought to discover its causes. The current epidemic has been linked, in part, to aggressive drug marketing by pharmaceutical companies in the late 1990s and early 2000s that promoted prescription opioids as the panacea for pain. But despite an increasing recognition of the problem in recent years, one in three Americans still received an opioid prescription last year.
Prescribing rates increased from 72.4 to 81.2 prescriptions per 100 persons between 2006-2010, were constant between 2010-2012, and later declined to 70.6 per 100 from 2012-2015, amounting to a 13% reduction. Nonetheless, the amount of opioids prescribed in 2015 remains more than three times higher than it was in 1999 and four times higher than prescribing rates in Europe during that same year. There is also significant variability across counties in the U.S., with prescribers in some areas of America writing 6 times more opioid prescriptions per person than the lowest prescribing counties. These findings suggest inconsistent prescribing patterns that are not being guided by evidence based practice guidelines.
Drug overdose is the leading cause of death from unintentional injuries in the United States killing more people than gun homicides and car crashes combined.
Communities experiencing economic hardship, where decent paying jobs and benefits, especially for people without a college degree, are limited, have been most affected by the opioid epidemic. From ages 25-29 to ages 55-59, white non-Hispanic men and women with a high school education or less experienced rising mortality rates from 1998-2015, a tragedy largely linked to the opioid crisis. In contrast, people in these birth cohorts with some college education or a more advanced degree experienced decreasing mortality rates, with larger declines at higher ages. This significant education differential in midlife mortality parallels reported measures of midlife physical health, mental health, and engagement in the labor force.
However, suggesting that the opioid epidemic affects solely low-income white Americans living in communities experiencing the phenomenon of being left behind by globalization and the 21st century technological revolution would be a mistake. Opioid addiction is a disease that affects people of both sexes, and all racial/ethnic groups and socioeconomic backgrounds. It is present in tiny towns, suburbs, small cities, and bustling urban centers alike.
In fact, new research has shown that opioid use disorder and addiction are now as prevalent in urban areas and suburbs as they are in rural areas; but, the epidemic has disproportionately ravaged economically distressed areas in the country such as the Rust Belt. In these regions, the rate of opioid addiction and opioid-related deaths have increased concurrently with a decrease in the availability of good manufacturing jobs, declining marriage rates, and weakening social networks. It is in these pockets of America that opioid addiction has become a disease of despair and a tragic manifestation of loss of meaning in the interconnected worlds of work and family life.
Ending The Epidemic: The Way Forward
Recently, increased public and policymaker attention has focused on the opioid crisis in communities across America. Legislation has been passed, a Presidential Commission has been established, and several organizations including the National Academy of Sciences, have released recommendations to address the epidemic some of which are included below. To reverse the devastating impact of the opioid epidemic, multi-faceted strategies mobilizing all sectors of society must be implemented, including:
With a presidential declaration that the opioid epidemic is a national emergency, agencies of the executive branch as well as the Congress would be further empowered to fund and implement programs to effectively prevent and combat the devastation of opioid addiction in America. Furthermore, it would help heighten the American people's awareness of the severity of the opioid epidemic, and of its potential to negatively impact family, friends, and loved ones. Innovative partnerships are needed across all sectors of society to respond with effective community, healthcare, and public safety strategies.
New research has shown that opioid use disorder and addiction are now as prevalent in urban areas and suburbs as they are in rural areas.
Opioid addiction is a medical issue resulting from powerful biochemical responses to specific addictive substances. The current epidemic has been fueled in part by inappropriate prescribing of these medications by clinicians. The scientific evidence does not support opioids as the first treatment for chronic pain, yet one out of three Americans (92 million people) received an opioid prescription in 2015. These medications are still widely prescribed and used by patients. Therefore, doctors, dentists, and other health professionals must be educated – during medical school, residency training, and the continuing medical education necessary for license renewal – about the appropriate uses of opioids in their clinical practices, and encouraged to limit opioid prescriptions to situations of pain that is life-threatening and terminal, and where no other effective treatment is available.
A team approach should be employed for pain management in which primary-care doctors, pain specialists, physical therapists, chiropractors, acupuncturists, massage therapists, mental health providers and addiction specialists work together to provide the most effective interventions for a patient. Currently, American physicians receive minimal training during medical school on evidence-based pain medication prescribing, substance use disorders, medication-assisted therapy, and pain management in general, and only five states require doctors to participate in continuing medical education on these topics. The should be amended to require that all Drug Enforcement Administration (DEA) registrants who want to prescribe the class of drugs containing opioids take a course in proper treatment of pain.
A promising tool facilitating safe opioid prescribing is Prescription Drug Monitoring Programs (PDMP). PDMPs permit the analysis of information from pharmacies and prescribers to determine if patients have received multiple opioid prescriptions or have been prescribed other medications that increase the risk of poly drug use. PDMPs have been proven to be effective: a study published in found that these programs resulted in a 30% reduction in opioid prescribing by physicians. Additionally, the Centers for Medicare and Medicaid Services (CMS) should facilitate breaking the linkage between Medicaid reimbursement to hospitals and patients' scores on pain management questions in the Hospital Consumer Assessment of Healthcare Providers and Systems.
Even if pain management is not the most significant factor influencing insurance reimbursement, this reform would help mitigate the perception of financial pressure to overprescribe opioids. Finally, public education from kindergarten through college (and beyond) about the dangers of drugs – including opioids – and the negative impact of addiction on people's lives is critical. The stigma associated with seeking help and treatment for addiction must be shattered. Addiction is a disease, not a crime or character flaw. Stigma acts as an added level of burden that inhibits prevention, care, and treatment. Reducing addiction-related stigma will require public education and the implementation of community-based stigma prevention campaigns.
The U.S. government must reduce the supply of illicit opioids available on the streets by stopping Mexican drug cartels and Chinese traffickers, the two largest suppliers of heroin and fentanyl, respectively, from moving their drugs across American borders. All illegal opioid sellers should face serious legal penalties. Additionally, given the scope of the opioid crisis and the risk posed by synthetic drugs like fentanyl, the FDA must strengthen efforts to detect these drugs when they illegally enter the U.S. from other nations through the mail. Proposed Congressional legislation would require foreign postal services to provide electronic security data on all packages mailed to the U.S.; other legislation being proposed would provide customs officials with high tech chemical screening tools to detect illicit opioids.
All illegal opioid sellers should face serious legal penalties.
The U.S. Drug Enforcement Agency (DEA) should also reduce its opioid production quota. In 2015, 640 morphine milligram equivalents (MME) were prescribed per person in the U.S., enough for every American to be medicated around the clock for 3 weeks. Recently, the DEA announced its intention to reduce the production quota for almost every opioid by 25% in 2017. However, much of this reduction will result from the agency's decision to eliminate a 25% "buffer" of excess production that had been permitted in past years to offset potential shortages of these drugs. Thus, further reduction in the production of these pills is warranted. Public-private partnerships should also be established to implement drug take back programs so that consumers can return medications to pharmacies on any day, ensuring that unused opioids are not available for misuse by others in the home.
Comprehensive treatment is needed for people with substance use disorders, underscoring the need for adequate insurance for both addiction interventions and for treatment of other diseases that co-occur in these patients. Nineteen percent of Americans with anxiety and depression, the two most common mental illnesses in the U.S., receive at least two prescriptions for opioids annually, and over 50% of all opioid prescriptions are for people with these two illnesses. In 2015, only 26% of people with opioid use disorders received any treatment, let alone comprehensive interventions, in part due to a lack of funds to pay for behavioral health and substance abuse disorder treatment, as well as a shortage of trained providers.
And yet, according to the recently released FY18 budget, the Trump Administration proposes to reduce the White House Office of National Drug Control Policy (ONDCP) funding by 5%, cut mental health spending in a way that would dramatically reduce access to addiction treatment, and reduce Medicaid funding by between $610 billion and $1.4 trillion.As the largest source of coverage for addiction treatment in the United States, Medicaid covers 35 to 50 percent of all medication-assisted therapy for opioid addiction, proven by research to be among the most effective methods of keeping addicted individuals in treatment and reducing the opioid overdose death rate. A study by Harvard University and New York University showed that Medicaid expansion provides substance use or mental health services for almost 1.3 million people. Overall, the Medicaid expansion associated with the (ACA) has led to an 18.3% reduction in the unmet need for substance use disorder treatment services among low-income adults. To meet the need for treatment, Medicaid should be expanded in those states that have not yet participated under this provision of the ACA. Additionally, the parity provisions within the ACA have provided increased access to substance use and mental health services. The various pieces of Congressional legislation to repeal and replace the ACA that were introduced over the past several months, if passed, would have significantly threatened the availability of these lifesaving treatment services for millions of Americans.
Importantly, on July 22, 2016, the (CARA) was signed into law to expand education, treatment, and prevention of opioid abuse with $8.5 billion in funding over 5 years. Some of the important provisions of this bill include establishing a community-based competitive grant program to address and treat the challenges associated with opioid and heroin addiction, as well creation and expansion of existing medically assisted treatments, and allowing pregnant women, veterans, and children to receive specialized treatment interventions through community based initiatives. In addition, CARA will expand prescription drug monitoring programs, launch a medication assisted treatment (MAT) and intervention demonstration program, and expand resources to identify and treat incarcerated individuals suffering from opioid use disorders by providing them with evidence-based treatment. Expanding the availability of MAT is important as it has been proven to reduce overdose deaths, help keep people in treatment, decrease use of heroin, reduce relapse, and prevent spread of infectious disease.
"This component of the Social Security Act prohibits federal Medicaid funds from reimbursing services provided in an inpatient facility treating "mental diseases" (including substance use disorders) that have more than 16 beds." A legislative change to this requirement would provide thousands more Americans in all 50 states with increased access to treatment for opioid use disorders.
Increased research investments at the NIH and CDC are necessary to better understand the etiology of the current opioid epidemic to facilitate testing and development of new medically assisted treatments (MAT) and non-addictive interventions for treatment of acute and chronic pain. Research could also potentially lead to a vaccine to block addiction in the future, as well as other effective preventative interventions.
Additionally, the FDA should undertake a comprehensive review of the safety and effectiveness of all opioid-based prescription painkillers currently on the market, including an evaluation of appropriate dosage requirements and side effects for children, women, and men. Many of these medications were FDA approved at a time when there was minimal awareness of their strong addictive properties.
Already, 47 states have expanded access to naloxone in some form, but access to this medication to reverse the effects of an overdose must be further increased. Federal and state governments should ensure that law enforcement officers and other first responders carry and are trained to administer naloxone. Furthermore, the government must "update and educate about 'Good Samaritan' laws to ensure that bystanders and those experiencing an overdose are not deterred from seeking immediate help.
To help standardize the quality and effectiveness of care provided at opioid treatment centers, evidence-based best practices for combatting opioid addiction should be established, published, and made widely available. The creation of an online hub that could serve as a "one-stop shop" for evidence-based guidelines for prevention and treatment of opioid addiction – including statistics, cutting-edge research, information about current laws in each state and at the federal level, and best practices – would be extremely helpful for the public and health care providers. amfAR has established an online portal for information on opioid use and services in the United States. The site is a "window into the opioid epidemic unfolding in every American's backyard—it provides local and national statistics using reliable data sources on new HIV and hepatitis C infections, opioid use and overdose death rates, and the availability of services like drug treatment programs and syringe exchange services in communities across the country." Additionally, users of the website can examine data at the state or at the county levels to view the differential impact of the opioid epidemic in across regions of the U.S.
Without a comprehensive approach and the funding needed to address this national emergency, 91 more Americans lose their lives every day.
Public and private sector payers, including insurance companies, should develop models for reimbursement of substance use treatment based on what is known about best practices for comprehensive, effective pain management that include a broad range of evidenced based treatments and alternative pain management interventions.
Federal, state, and local governments, working with the private sector, must address the important socioeconomic drivers of the opioid epidemic and develop a strategic plan for the creation of stable and well-paying jobs, social supports, educational opportunities, technical training programs, and increased access to health services for people living in distressed communities where residents may be experiencing declining social mobility. Apprenticeships and certificate programs at community colleges could provide people with new skill sets and tools for employment. Online training and degree programs could also make an important difference in helping to reverse declining socioeconomic opportunities in distressed communities.
Action Is Needed Now
Addiction is a multifaceted public health problem that cannot be attributed to a single cause and reversing its impact does not have a simple solution. An expert panel predicted that if dangerous synthetic opioids keep spreading rapidly across communities at the current rate and the waiting time for treatment remains so prolonged, opioid overdose deaths could exceed 250 every day. This means that over the next decade, more than 650,000 Americans could die from opioid overdoses. At this rate, over the course of the next decade, annual opioid-related mortality in the United States would surpass the worst year of gun deaths on record, and perhaps even the peak year for AIDS-related deaths in 1995, when nearly 50,000 Americans lost their lives to this disease.
Opioid addiction is preventable, and there is much that the government, health providers, private sector organizations, and the public can do to reduce the toll of this public health problem in our country today. But we must act now: without a comprehensive approach and the funding needed to address this national emergency, 91 more Americans lose their lives every day. Failure to take action is an option.
[1] Brooks, David. "Let's Go for a Win on Opioids." , 4 April 2017. Web. 5 June 2017.
[2] Hari, Johann. "What's Really Causing the Prescription Drug Crisis?" , 12 January 2017. Web. 5 June 2017.
[3] "Opioid Basics: Understanding the Epidemic." Web. 2 June 2017.
[4] Rubin, Jennifer. "Trump's Hypocrisy on the Opioid Epidemic Sees Bipartisan Outrage – and Rightfully So." . 5 May 2017. Web. 1 June 2017.
[5] Diamond, Dan. "White House Dials Back Cuts to Drug Control Office." 23 May 2017. Web. 19 July 2017.
[6] Kaiser Family Foundation. "Prescription Opioid Overdose Deaths and Death Rate per 100,000 Population (Age-Adjusted)." Web. 1 June 2017.
[7] NPR. "The Forces Driving Middle-Aged White People's 'Deaths of Despair.'" 23 March 2017. Web. 6 June 2017.
[8] Case, Anne and Deaton, Angus. The Brookings Institute. BPEA Conference Drafts, 23-24 March 2017. Web. 6 June 2017.
[9] Frieden, Thomas. "A Framework for Public Health: The Health Impact Pyramid." American Journal of Public Health. 2010 April; 100(4): 590–595. Web. 5 June 2017.
[10] "Opioid Data: Drug Overdose Death Data." Web. 2 June 2017.
[11] Gounder, Celine. "Who is Responsible for the Pain Pill Epidemic?" 8 November 2013. Web. 12 June 2017.
[12] Carr, D., and Davis, Corey S. "Physician Continuing Education to Reduce Opioid Misuse, Abuse, and Overdose: Many Opportunities, Few Requirements." , Volume 163, 100 – 107.
[13] Clark, Kelly M.D. "Short Term Grants Are No Replacement for Medicaid to Fight Opioid Epidemic."
[14] "DEA Reduces 2017 Opioid Production Quotas – Mostly by Eliminating Buffer." 11 October 2016. Web. 21 June 2017.
[15] Blau, Max. "Death Toll from Opioids Will Only Get Worse, Experts Say." . Web. 28 June 2017.
[16] Bonnie RJ, Kesselheim AS, and Clark DJ. . Report from the National Academies of Sciences, Engineering, and Medicine. Print.
[17] Laslo, Matt. "Trump's Budget Could Accelerate the Opioid Crisis." 25 May 2017. Web. 19 July 2017.
[18] Bernstein, Lenny. "Greater Opioid Use and Mental Health Disorders Are Linked in a New Study." 26 June 2017. Web. 19 July 2017.
[19] Welch, Ashley. "Opioid Prescriptions Drop, But Some U.S. Counties Prescribe Far More Than Others." . 6 July 2017. Web. 27 July 2017.
[20] Baig, Jalal. "Despite All His Promises, Trump Has Done Nothing About the Devastating Opioid Epidemic." . 30 July 2017. Web. 31 July 2017.
[21] Interim Opioid Report. 31 July 2017. Web. 1 August 2017.
[22] Han, Beth et al. "Prescription Opioid Use, Misuse, and Use Disorders in U.S. Adults: 2015 National Survey on Drug Use and Health." 1 August 2017. Web. 1 August 2017.
[23] Humphreys, Keith. "Opioid Abuse Started as a Rural Epidemic. It's Now a National One." 31 July 2017. Web. 1 August 2017.
[24] Florence CS, Zhou C, Luo F, Xu L. The economic burden of prescription opioid overdose, abuse and dependence in the United States, 2013. . 2016:54 (10):901-906.
[25] Schuchat, A, Houry, D, Guy, GP, New Data on Opioid Use and Prescribing in the United States, 2017, , 318 (5) 425-426.
[26] Pain Management and the Opioid Epidemic: Balancing Societal and Individual Benefits and Risks of Opioid Use. 2017.
RELATED…
Rise In Hospital Visits For Opioids Spotlight The Epidemic

The Heroin And Opioid Crisis Is Gridlocked By Discussion

Opioid Commission Asks Trump To Declare Epidemic A National Emergency